January 24, 2022
S3Corp. And Year-End Activities
As the annual internal activities before Tet Holiday, S3Corp. will have the company meeting and Tet Gift Offering
Let us dive into it
Online Year-End Party 2022 
A company meeting is an opportunity for us all to gather together to look back on the journey that we had gone through and plan for what we need to do in the new year ahead.
Unlike the previous years in which S3Corp. would have the company meeting, we had to organize an online year-end meeting due to the impact of the pandemic.
This meeting was about to look back on the past journey with the joys we have shared, the goals we have accomplished, and the challenges we have faced.
When looking back at 2021, many difficulties made us worried. Nonetheless, we did our best and achieved our goals. It will provide great inspiration for all of us in the future to accomplish even greater success! 
We also had the opportunity to listen to valuable and insightful sharing from all levels of management.
Besides that, we also listened to the relevant announcements from BO heads for upcoming activities.
Moreover, we had time to be thrilled and have fun with the lucky draw game. It was a genuinely meaningful and thrilling meeting for all of us.
Many thanks to all S3ers who have been hardworking, dedicated, and committed over the last year. And to all clients and partners, we are extremely grateful and appreciate your confidence and trust during the past times.
Tet Gift Offering 
The Tet holiday is usually a great occasion where we can all reunite with our family members after a year of working hard.
On this occasion, S3Corp. was glad to offer our members a box of gifts to enable their celebration in ways that made this holiday season more memorable and meaningful.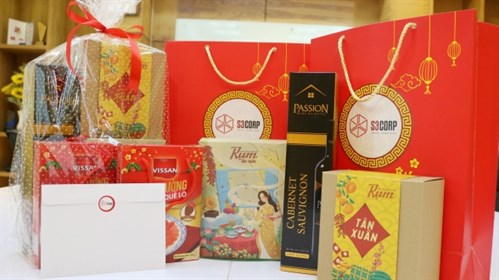 It would be an excellent opportunity to express our gratitude to all S3-ers for their ongoing contributions to the organization.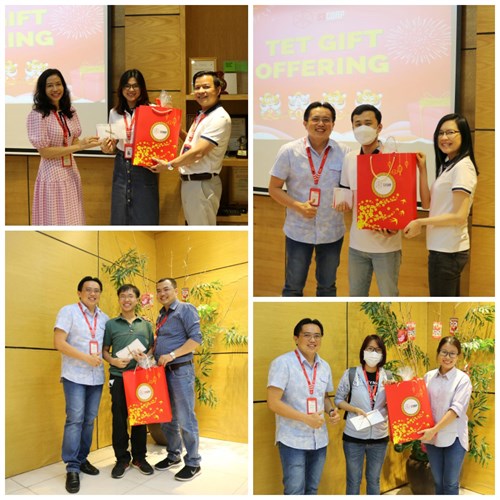 We hope that these small gifts could assist them in having a wonderful Tet holiday with their families, friends, and loved ones.