January 22, 2019
S3 Corp Business Analyst Training Jan 2019
Business Analyst Training takes place from January 07, 2019 at Pig Room, S3 Corp Head Quarter.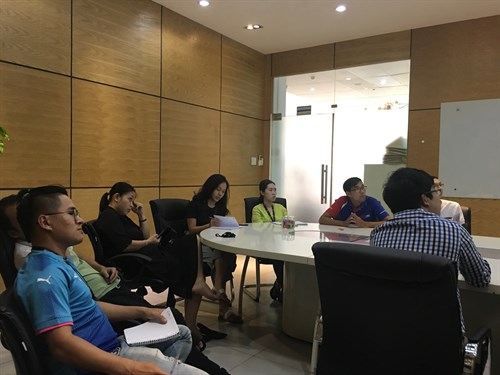 S3Corp.- Training Activity on Business Analyst
We have 6 sessions in this course with objective is "How to be professional Business Analyst in software outsourcing team".
Session 1: Introduction BA & BA activities (1.5 hours)
Session 2: How BA work in a scrum team (1 hour)
Session 3: BA tools (part 1): Balsamiq, Draw.io (1 hour)
Session 4: BA tools (part 2): Marvel App, Postman, Freemind, Google Suite... (0.5 hour)
Session 5: UI/UX Experience (45 mins)
Session 6: Database/API (1 hour)
During this course, Mr. Duc Le shares the overview experiences to detail of the work and role of BA in the project.
Each participant is going to understand the basics of tools, working process and, more importantly, practice with practical exercises as a Business Analyst.
Many thanks to Mr. Duc Le. We really appreciate all the hard work you've done to help us. 
S3 Corp. is a leading software development outsourcing service based in Ho Chi Minh, Vietnam. We are always the pioneers and always proud to provide the best outsourcing services and solutions, to promote efficiency and bring the most practical value for customers.