April 23, 2019
S3 Corp Has Been Awarded Sao Khue 2019
We are proud to announce that S3 Corp is awarded the Sao Khue 2019. It's a wonderful achievement!
S3 Corp Has Been Awarded Sao Khue 2019
On April 21st 2019, it was a pleasure for us to attend a ceremony to honor Sao Khue 2019 and received this award.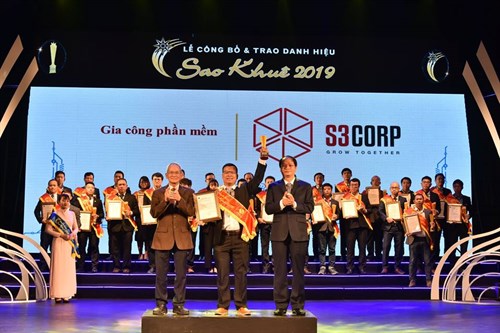 Mr. Linh Le - CEO represent for S3 Corp to receive Certificates Award
Sao Khue is the prestigious title of the software industry and information technology to recognize and honor good products, solutions and software applications of Vietnam, annually organized by VINASA since 2003.
S3 Corp. is a leading software development outsourcing service based in Ho Chi Minh, Vietnam. We are always the pioneers and always proud to provide the best outsourcing services and solutions, to promote efficiency and bring the most practical value for customers
---
Related Article:
S3CORP. RECEIVED THE SAO KHUE AWARDS 2021-THE PRESTIGIOUS AWARD OF VIETNAM SOFTWARE INDUSTRY