September 20, 2018
S3 CORP. IS CONTINUOUS ON TOP VIETNAM'S 50+10 LEADING IT COMPANIES 2018
On September 18th 2018, the ceremony to honor Vietnam's 50 + 10 Leading IT Companies 2018 held by VINASA in Hanoi.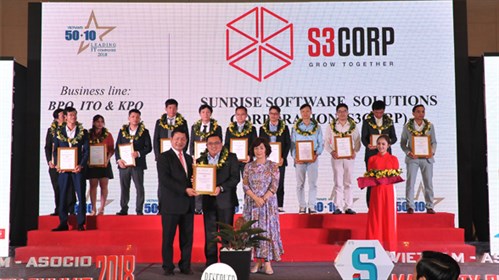 Mr. Le Nguyen - Business Development Director represent for S3 Corp to receive Certificates Award
Over the years, the programme has supported many effective local IT businesses, especially those operating in the fields of marketing, communications and cooperation development.
This year, aside from the selection of 50 leading IT companies, the organising board will also pick 10 outstanding enterprises in digital transformation, internet of things, and new technology trends.
S3 CORP. IS CONTINUOUS ON TOP VIETNAM'S 50+10 LEADING IT COMPANIES 2018
S3 Corp. is proud to be continuous on Top 50+10 Vietnam Leading IT Companies 2018. It is an accomplishment of unceasing dedication of all S3 Corp's members.
S3 Corp. is a leading software development outsourcing service based in Ho Chi Minh, Vietnam. We are always the pioneers and always proud to provide the best outsourcing services and solutions, to promote efficiency and bring the most practical value for customers.