January 31, 2018
S3 Football Championship 2018
S3 Football Championship 2017 aims at bringing smiles in the faces of S3-ers football lovers, connect all members from different team at S3 Corp. Also, enhancing sport spirit and improve S3-ers health. 
We had a very successful Opening Ceremony attended by field of 4 teams from different projects and devoted supporters. The action took place on 21 Dec 2017, Thang Long stadium.
In the final match, after the referee's whistle, InnovaSoft and Poppiyes deployed the attack method, InnovaSoft seemed well coordinated and moved faster than their competitor.  In the eighth minute, with incisive eyes, the elite striker of InnovaSoft lead the ball past goalkeeper Pop-pi-yes and scored the first point for Innovasoft and kept this rate till the end of the final match. No doubt, one again, InnovaSoft have become the Champion.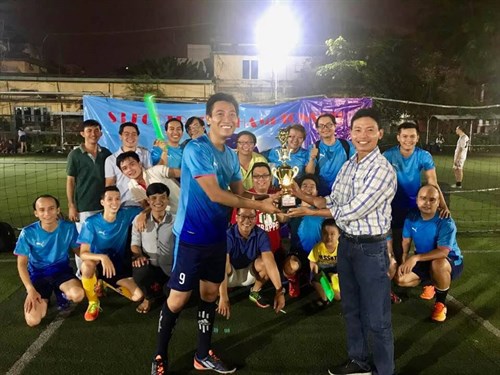 Congratuation to our champion, 1st place: InnovaSoft team , 2nd place: Poppiyest, 3rd place: Hu Tieu FC and JP. 4 teams have brought us many awesome matches with enthusiastic cheers of their fantastic fans. Great thanks to our players and awesome fans who have contributed to the success of this season.