Outsourcing software development has become the solution for many businesses. It can help the business to reduce cost spend without losing the quality of the project. Many companies/enterprises have considered and approached it as vital to their survival in the digital world. 
However, outsourcing might not be cheap as it is if you choose to outsource locally. Hence, hiring a remote team or shifting to the offshore software development models would make low-prices come true.
Now, the question will be which countries are best for offshoring software outsourcing. S3Corp. has provided this article to help you get an idea of the best offshore software development countries and the average software developer hourly rates.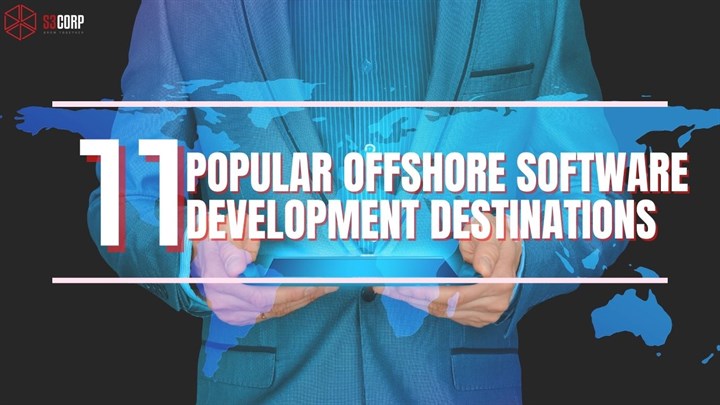 11 Best Offshore Software Development Countries Today
Below here are the 11 most popular offshore software development countries around the world. These countries are from three regions: Asia, Europe, and Latin America. If you have no idea where to hire the top talented developers for your project, these countries might be the answer that you need.
---
Let's first dive into the
Asia Offshore Software Development Countries
.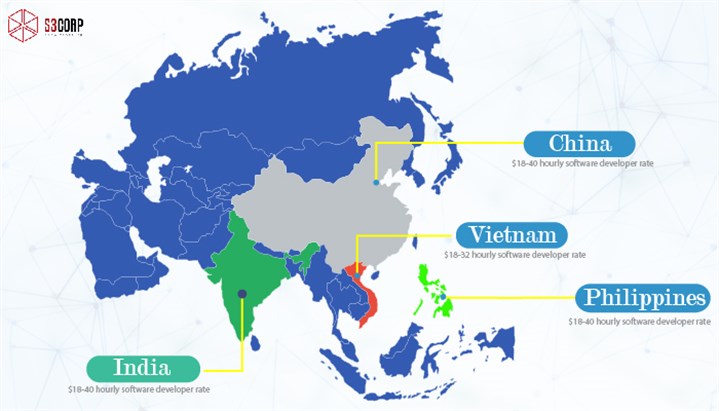 1. India
India is well-known as the top leading offshore software development country. There will be around 250 top global companies establishing the partnership with local IT companies. The most common reason would be the expense for a software project.
The average hourly software developer rates in India charges between $18-$40. This rate has made India become the cheapest outsourcing destination. Yet, that also becomes a drawback of offshoring to India. Low cost does not ensure the quality of the project. Hence, you must do some more research before hiring an India offshore development team.
Besides the cost-effectiveness, India also allows you to get into the vast tech talents with working experience. Indeed, by applying the STEM education system, India generates up to 2.6M software developers every year. These specialists are well-trained and qualified with the skills needed. They will help to scale up your business. Besides that, India has 5 million IT professionals available. And every year there are about 200,000 IT graduates join the market. With these numbers of software engineers, India can help you to solve the issue of IT shortage.
2. China
Besides India, China has become a familiar country in terms of software development services. The common reasons for reaching out to the China IT companies are cheap labor and developer productivity.
The service costs per hour in China will be around 18- $40. It is an affordable cost compared to other countries like the US, Australia, or Western Europe. Yet, these development costs are still a bit higher than the other Asian countries. It is because of the advancement of the local economy, tech education, and expertise specialists.
The popular programming languages among Chinese software developers are functional programming, Python, Shell, and others.
These languages are the foundation for the development of Artificial Intelligence, Robotics, and Deep Learning in China. Multiple foreign companies take this advantage and enter the market for related projects.
The Chinese government emphasizes improving the IT sector. Hence, many plans and policies or economic incentives are applied. China has built and developed more than 50 science and technology industry parks throughout the country. 
They also emphasize mathematics, science, and high tech in their schools and universities. It can provide around 5 million IT specialists every year for the technology market.
3. Philippines
With the development in the BPO industry, the Philippines has established a strong foundation in the IT market. There are more and more apps being built and developed in the Philippines. More projects relating to robotics, cybersecurity, AI, DevOps are outsourcing in the country. It can promise many changes in the future for the local IT market!
Go along with it, the great support from the government and the culture compatible with the US can be an advantage for Filipino developers and even clients. In fact, in 2019, the Philippines is ranked 5th in the top 50 digital nations according to the Tholons Services Globalization Index.
It is reasonable because this country has a pool of young talented software specialists, elaborated IT infrastructure, and proficiency in using English. There are more than 200 offshore software companies and around 95,000 technical specialists in the country. Moreover, there are more than 130,000 IT graduating students each year. The software developers are familiar with the following programming languages: Java, PHP, ASP.NET, Ruby on Rails, API development, and more. The offshore development rates in the Philippines will be around 18-40$.
4. Vietnam
Vietnam is another country that should mention here. In 2019, Vietnam's software outsourcing industry ranked 9th in the top outsourcing countries in the globe. Even though the IT outsourcing or software development services in Vietnam are so young (20+ years). Yet, Vietnam has proved itself as the best offshore development destination.
The Vietnamese government has heavily invested in STEM education. It promises to provide more skillful software developers to the labor workforce. 
The nation has highly-skilled software developers with a proven track record. The most common programming languages in Vietnam are Java, PHP, .NET, and many other languages relating to AI, Machine learning, E-commerce, etc.
Besides accessing the top-quality engineers, many clients have agreed that Vietnamese software developers have a highly adaptive approach to the upcoming or latest technology and know-how to apply it to the project.
Moreover, many giant companies such as IBM, Microsoft, Nokia, Intel have invested in Vietnam. It has made Vietnam become the most attractive destination for software development outsourcing. Today, the development of technology has brought many opportunities to the local IT businesses. Local companies are stepping into other challenging technology areas such as Fintech, Blockchain, Machine Learning, E-commerce, and Artificial Intelligence.
The average offshore software development costs in Vietnam will come around $18-32. It is an affordable rate compared to the other country while you can access top-quality engineers. Hence, if you are looking for cost-effectiveness for your project, Vietnam software outsourcing is worth consideration.
---
Let's now move on to the
Europe Offshore Software Development Countries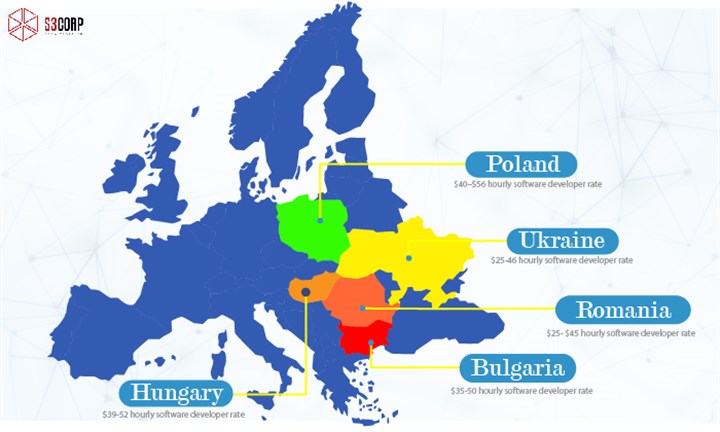 5. Hungary
Hungary is not a famous name in terms of software outsourcing development. Yet, the research recently shows that Hungary will be another best country to outsource.
Among the other industries, software development has emphasized to develop not only in IT infractions but also IT specialists. This focusing has brought many giant tech companies such as IBM, Microsoft, Nokia, Ericsson, HP, and others to partner with the local IT companies. Also, many R&D centers from these companies established in Hungary. This establishment creates a significant contribution to the economy, especially the development of the IT industry.
In Hungary, there are around 80,000 software developers. And there are 6000 new IT graduates to join the market each year. The popular programming languages in Hungary are Java, JS, SQL, C++, Shell, Python.
Hungary IT software development companies can be a reliable and qualified development firm, and they can help you out with your custom software development needs. However, the cost spent on a project is still a bit higher than the other destinations. There will be around 39-52$ per hour. Hence, if you are looking for cost-effectiveness, referring to the other countries.
6. Poland
As the country ranked 9th in The Tholons Top 100 Outsourcing Destinations; Poland is another option for offshore software development. Many reasons can bring this country to your consideration.
Poland has around 720 IT outsourcing companies that offer a wide range of software development services, including other activities such as IT operations, digital marketing. 
The average offshore software development rate in Poland will be dependent on the project. Yet, it will come between $40–$56 per hour.
Even though the cost spent on the software outsourcing project can be higher than neighboring (like Ukraine, Belarus) due to the tech education and high living standards, you still can find Poland as a cost-effective option compared to the other Western European.
There are around 295,300 software development specialists. 20% of them are working in companies providing software development services. That must say 80000 freshers are graduating every year. These numbers can show that Poland has a solid pool of talented software developers. 
The most popular programming languages in Poland are Python, Shell, Ruby, Java, PHP. Hence, if you need these programming languages for the project, Poland software outsourcing companies will be the destination to partnering.
7. Romania
Romania is another attractive IT outsourcing destination that should count.
There are over 300 software outsourcing companies around the nation. Around 125,000 software developers are working in the outsourcing sector. There are over 5000 IT fresh graduates joining the market. This number can show that Romania has an abundance of knowledgeable and experienced IT specialists in Central and Eastern Europe.
Indeed, this country contributes almost 20% of the labor IT workforce in the Central and East Europe market. These resources lead many giant tech companies like Dell, IBM, Oracle, Microsoft to invest and open offices in Romania.
The software outsourcing market in Romania is smaller than in Poland or Ukraine. However, the offshore development rate is more attractive than Poland or the Czech Republic. The average software development rates could come around $25- $45 per hour, depending on requirements and the experience/expertise field of the engineer.
The majority of software services in Romania are fintech, software development, and web application development. Hence, the software developers would be familiar with the following programming languages: C++, .NET, Java, PHP, JavaScript.
8. Ukraine
Ukraine became a leading country among offshore software development countries not only in Eastern Europe but also worldwide.
Ukraine is the pool of talent with 200,000 tech specialists. And with STEM education, the Ukraine education system churns out over 36,800 entry-level tech talents annually to join the IT market. Besides that, the free training and specialized courses have made labor more and more abundant. These numbers explain why Ukraine is the hub for technological start-ups with 4000 tech companies and 1600 software outsourcing companies.
With this number of services companies, you are free to choose the preferred software development partners that fit your skill-set required. The most common programming languages are C++, Java, Ruby, PHP, and Python. The main fields that can outsource in Ukraine are Mobile development, Big Data, AI, blockchain, and cryptocurrency-related projects. 
The average offshore software development rates in Ukraine will be dependent on the city. Yet, commonly it will come to around $25-46 per hour. If you want to access the talent pool and get a competitive outsourcing rate, Ukraine would be work for your business.
9. Bulgaria
Bulgaria is another popular choice that can be reliable for businesses. Bulgaria's software development industry might not be impressive as other neighboring countries like Ukraine and Poland. Yet, the nation has proved itself a beneficial outsourcing destination in which it can provide a great pool of tech talents, competitive development wages, and mature infrastructure.
The number of IT specialists in Bulgaria is over 55,000 specialists. It is a modest number compared to neighboring countries. However, with the modern education system combining with its top-tier tech universities, Bulgaria is generating over 5000 graduates every year. It is the reason for growing not only the quantity but also the quality of the software developers. Besides the technical expertise, excellent language communication skills can be a plus for software engineers in this country.
Bulgaria provides a qualified IT workforce that can help you to scale up your business at an affordable price. The offshore software development rates will come around 35-50$. The popular technology stacks are JavaScript, React, PHP, Java, SQL, Python.
---
Let's now go to the
Latin America Offshore Software Development Countries
where have many interesting things.
10. Argentina
Argentina, as the well-known outsourcing destination among the Latin-America, has a great pool of talented developers who have a rich working experienced. The nation has over 134,000 software developers and over 1000 companies that offer software development services. Moreover, the free education in technology, which marked Argentina as the most educated country in the region, has brought more tech talents to join the local IT workforce.
The most common background of the offshore software development companies in Argentina is web application development, software development, data migration, DevOps. The tech specialists in Argentina are familiar with these programming languages: C, PHP, Java, JavaScript, .NET Framework, Python, and Data Science.
Argentina is a growing economy. They have a familiar culture of western companies combining with highly trained developers. It has brought Argentina to become the choice for software outsourcing demand of many companies. The average offshore development rate can be ranged around 30-60$ depending on the programming skills. These rates can be expensive compared to the Asian countries. However, this is affordable compared to the local outsourcing companies. 
11. Brazil
Among the countries in Latin-America and South-America, Brazil could be considered as the top leading country in outsourcing software development field.
Recently, Brazil has an improvement in the business environment combining with the experience in the software industry. It made Brazil become the choice for software outsourcing needs. Moreover, with over 470,000 software developers and around 15,000 tech graduates joining the workforce every year, Brazil becomes the tech hub with many technical engineers. Besides that, due to the English proficiency and similar time zone, Brazil attracts more companies from the US to invest in and partner with the IT Brazil companies
The average rate for software developers in Brazil will be around 30$-50$. This number might be a bit higher than the other countries. Yet, it can save US-based companies around 50% of the cost spent for a software project. Hence, if you are looking for cost-effective and programming languages like Java, Python, SQL for your project, Brazil should be on your list of considerations.
---
Above are all the 11 leading offshore software development countries spreading across 3 continents: Asia, Europe, and Latin America. Another continent is Africa which is also becoming an offshore software destination. Let's look again at these countries on the world map below.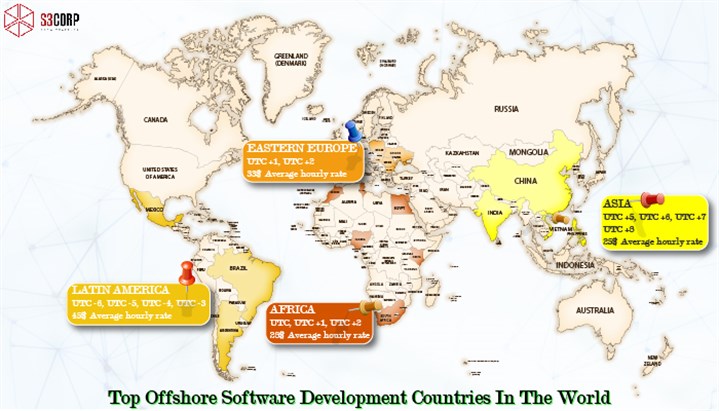 Conclusion
This article provided information on the best offshore software development hubs around the globe. 
These countries are all worth your consideration. Some countries offer lower rates while others provide better quality. Hence, to figuring out the software vendor that you can partner with and establish a long-term working relationship, you should take time to do some more researches and discuss with your business team to choose the best one. 
Here are some aspects that you might need to consider: your needs and requirements, the locations, language proficiency, development rates, technical capabilities, quality of education, culture. And so on.
In our experience, by limiting your research destinations, you will get more chances to find out the best offshore software outsourcing countries for your business needs. The following countries might be valid options for your software development needs: China, Ukraine, Poland, India, and Vietnam.
Why Companies Reach Out to Offshore Software Development Projects?
Many reasons have led companies to opt for offshore software development agency like affordable offshore development rates, high taxes, lack of local talent and expertise resources, time-limited, etc. 
Besides that, the outbreak pandemic has impacted the development of any business. Hence these reasons have become more practical. Below here S3Corp. will list the three most common reasons why companies should opt for offshore outsourcing rather than build up in-house development teams.
Cost-effective. According to a Deloitte study, there are around 59% of companies opt for software outsourcing to optimize costs-spend for the project. Depending on the project and selected country, companies could save more than 70% cost-spend. 
Access to top-notch expertise. While the talent gap in various technology fields such as Big Data, AI, Application development has become critical issues, offshoring allows you access to well-educated and highly-trained global talented resources. Meaning to say, it will not only solve the problem of lacking talented resources but also let you access high-quality tech expertise. 
Mitigate Risks – They have worked on diversified projects. Hence, their experiences can help you avoid mistakes and potential risks you could encounter along the development way.
Yet, besides the advantages of offshoring, companies need to aware of the downsides of offshoring software development projects. It will help companies figure out the way to collaborate well with offshore software companies. Below here are two main disadvantages that might impact the outcome of your project.
Language barriers. Keep in mind that most of the offshore destinations are not English-speaking countries. Hence, you might encounter misunderstandings and miscommunication along the way.
Time-zone differences. It might become problematic in terms of workday organization. For the US-based company, the offshore company might work ahead or after the US time-zone from 5 to 12 hours. Your business workday may be the middle of the night for them. Hence, if you need to solve the issue, you might have to wait the entire day to receive a response. The solution is distributing tasks in advance and modifying them based on the time zone differences.
Wrap Up
Offshore software development services will not only help companies to build innovative and outstanding products. Companies can scale up their business and stay ahead of their competitors in the competitive market. Hence, generating more profits.
Moreover, offshore software outsourcing has changed the scenario of hiring IT specialists. This model has solved the issue of lacking talented developers and draw software development expertise from all over the world. 
As a reliable offshore software development partner, our motto at S3Corp. is 'grow together. We believe that IT outsourcing is about sharing common goals and strive for success. Together we can help your business grow with the help of the latest technology and a professional team. Reach out with any questions relating to the topic or your software project.