Software outsourcing services have recently gained global popularity. Companies are employing these services for both cost-savings and time saving as well as a multitude of other benefits.
India and China, have established themselves as leaders in the field. However, the picture of outsourcing services has changed. Several new countries, including Vietnam, are becoming the rising stars in the IT outsourcing market. With strong investment from giant tech companies in the development of a skilled technical workforce, Vietnam is showing to be a promising destination for technology generally and for software outsourcing services particularly. Here is why Vietnam software outsourcing will achieve a top position in global software outsourcing in the very near future.
Why "Vietnam?"
This might be the first question when one mentions using Vietnam for software outsourcing. The perception of Vietnam for many people might be that of a small, poor country and indeed, it is, however, Vietnam still takes on a remarkable role in the field of technology, especially in the software outsourcing industry. These following proofs are taken from the research of trustworthy organizations that prove to us all that Vietnam software outsourcing is a rising star in the global field.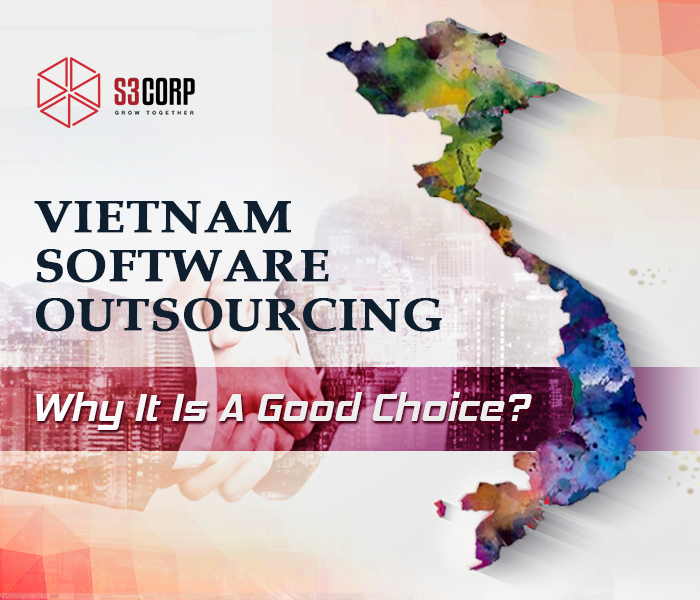 Industry Reviews
A.T. Kearney-a leading global management consulting firm established in 1926.
In their 2019 Global Services Location Index™ (GSLI) report, which identifies the top 50 locations providing IT, BPO, and voice services; the report shows that Vietnam had moved up one position comparing with the report 2017-from the sixth position to fifth position. In the 2017 GSLI report, it also showed that Vietnam took a big leap from the eleventh position to sixth position.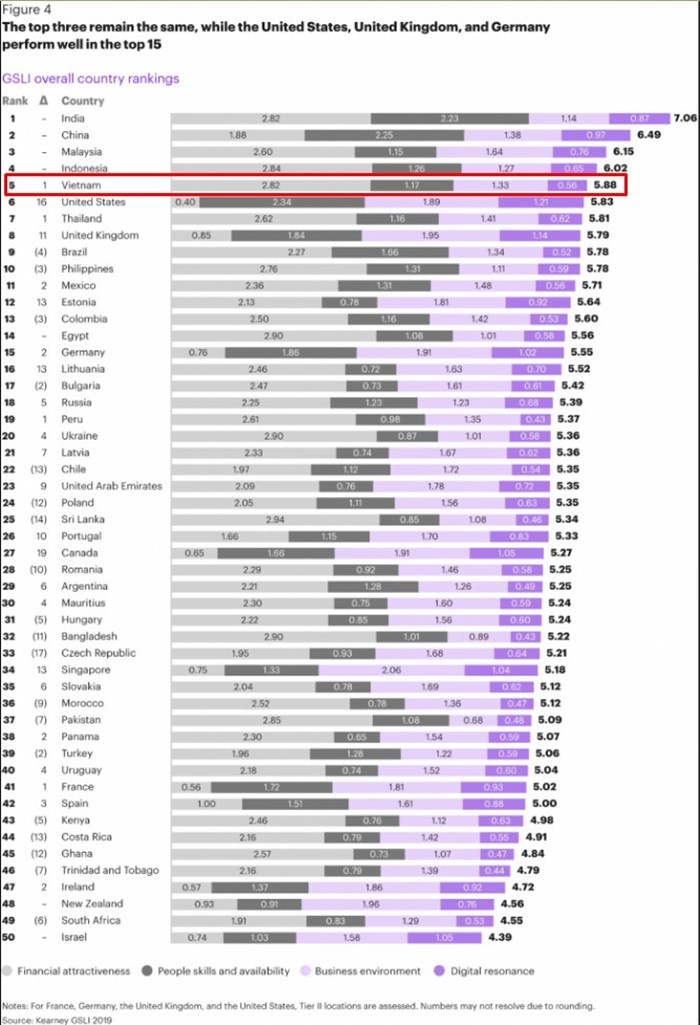 The report of GSLI
Tholons-a leading full-service Strategic Advisory firm for Global Outsourcing and Investments.
In the latest research report of Tholons Services Globalization IndexTM (TSGI) 2020, Vietnam IT Outsourcing ranked the ninth position in the top 50 digital nations.
The report of TSGI
Comparing to 2019, the position seems to move up and becomes a new entrants to top 10 digital nations. By ranking in the ninth position, Vietnam proved that it is a wise choice for outsourcing software, especially in the "new normal" after the outbreak of pandemic in 2020. And we believed that Vietnam can become a top IT outsourcing country in the near future.
Another research report, Tholons' report for the top 100 outsourcing destinations- showed that Vietnam ranked eighteen. This was a dominant position and regardless of the top cities for outsourcing, Vietnam would be around the eighth position for the top outsourcing country.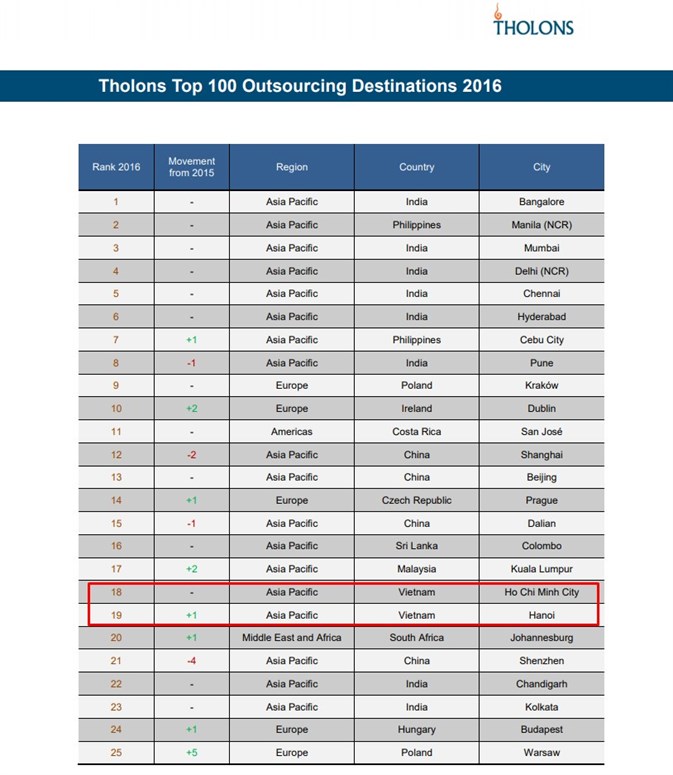 Gartner- a global technology research and advisory firm providing technology-related insights for businesses., Gartner identified the top 10 Locations for Offshore Services in APAC, including Vietnam.
These reviews from renowned organizations might change the way people think about Vietnam. But, is it worth investing in Vietnam for software development outsourcing? If yes, where to find the top IT outsourcing companies in Vietnam? Is there any challenge when outsourcing vietnam?
What are the advantages of Vietnam software outsourcing?
1. Population
The population of Vietnam is over 97 million people and remains on the 15th among the top 20 largest countries by population and on the 8th among Asian countries. The average age of the population in Vietnam is under 32. This is a young country, which assures that a great number of people are joining the workforce. The young generation is the well-educated generation, specializing in technology. Each year, there are thousands of students graduating in information technology. This ensures a great pool of talented, young, dynamic, and skillful software engineers.
2. Technology
Vietnam has recently become a tech hub for anyone concerned with technology, such as the Internet of Things (IoT), Big Data, Artificial Intelligence (AI), Machine Learning, Blockchain, Cloud Computer, etc. This is not only an opportunity for software developers to adapt and upgrade their technical skills but it also presents a challenge where they can, study, and work-hard; in order to keep up with the latest technology and provide the best services for customers.
3. New land for investors
Many giant tech companies such as Intel, IBM, Cisco, Sony, and Apple have chosen Vietnam as new land for their investment. An example of this is when they decided to move Nokia manufacturing from China to Vietnam. Many Japanese companies have chosen to invest in the Vietnamese software industry for countless benefits, especially in terms of IT Outsourcing (ITO) and Business Process Outsourcing (BPO). These investments give Vietnam software developers the opportunity to not only grow strong in technical skills but to also gain the international experience needed to provide professional services to customers.
4. Strong investment in IT education
Vietnam is a promising destination for those seeking technology advancement and hiring Vietnam software outsourcing company. In order to respond to the need for human resources, notably software engineers, Vietnam education is investing in building a firm foundation on STEM (science, technology, engineering, and math skills). This foundation has united educators, organizations, and vietnam software companies to support the development of Vietnam's Tech Talented.
Universities are investing in academic courses and majors related to information technology. Learning centers that specialize in the IT field are open for all people. Many IT companies in Vietnam cooperate with educative organizations to develop training facilities to help improve software developers in their technical skills. Famous universities also invest in Vietnam which assures provision not only in quality but also in quantity to the Vietnam software market and even the global market. The dream is that Vietnam becomes the next Silicon Valley in the Southeast Asia area and ultimately in the Asia area.
5. Competitive cost
Vietnam offshore software development is well-known as a cost-effective destination for software outsourcing services. Hiring a top software outsourcing companies in Vietnam can save 90% of the cost operation compared to outsourcing in the US. Comparing to China the saving would be 50%, and 30% if compared to India. Investing in the Vietnam software market is a wise financial decision. You will not only save your money but you will also hire quality software programmers
The Challenges Faced in the Vietnam Outsourcing Market
1.Language
The English Proficiency Index from Education First (EF), Vietnam is in the state of need considering English. This is not too low but it is not too high. The main problem of Vietnamese people is pronunciation and confidence in communication. This is quite a challenge if a customer is communicating English. However, we believe the investment in education, especially in English will boost the English proficiency of Vietnamese, and shortly, Vietnam can be on top of the English speaking countries. Why you also should believe it?
English is a compulsory subject for students in Vietnam.
It is a required standard for graduate students.
Many applications and websites and courses are built only for Vietnamese people.
Language training centers are open for students.
Bilingual programs are available at many universities, schools, and training centers.
With these and with strong investment in education, English communication would not be a big problem for those who want to hire vietnam outsourcing companies. Along with technical skills, software outsourcing companies have a high requirement for English skills from their developers. These companies also have a program for training and developing English skills for their software engineers. This can ensure that you can hire a software development company in Vietnam with confidence and without fear of miscommunication.
2. Difference Time-zone
If a company is located in the US or UK and wants to hire a software outsourcing company in Vietnam, it would create a challenge due to different time-zones. However, this would not be a great challenge- it could be very time efficient. For example, you can prepare the tasks in the afternoon before you leave the office and send it to the development team. While you are in bed, developers are working on it and they can give you the completed-tasks the following morning. Many IT outsourcing companies will provide a number of key personel who will work with you during your day time/their night time.
Three famous cities for Vietnam Software Development Outsourcing Services
As mentioned above, Vietnam technology has a large pool of talented developers and it is a good place to develop and boost your business for the best business outcomes. The following three famous cities will provide the top software development companies as they play a big role in Vietnam's economy generally and vietnam software outsourcing particularly. They are Ha Noi, Da Nang, and Ho Chi Minh city. These three cities are in different parts of Vietnam.
Ha Noi city is the capital of Vietnam and it is in the north of Vietnam. The famous university in Hanoi is Hanoi University of Science and Technology. The average graduated software developers each year is around 10,000.
Da Nang city is in the middle between Ha Noi and Ho Chi Minh city. This place is a developing city with many services, especially tourism. The Da Nang University of Technology is a famous university and plays a significant role in this area, notably providing a great number of software developers each year for software companies in vietnam.
Ho Chi Minh city is in the south of Vietnam and plays a significant role in the economy of Vietnam. This is the most attractive place not only for investors where they can find the top software outsourcing companies in Vietnam but also for software developers where they can live and build their career path. Some famous universities which provide the high-quality software engineers for most software company in Ho Chi Minh are Ho Chi Minh City University of Science, Ho Chi Minh City University of Technology, University of Information Technology; in which, the Ho Chi Minh City University of Science listed in top three universities that have best coders in the world
Read More: VIETNAM AS A BIG ATTRACTIVE DESTINATION IN THE FIELD OF OUTSOURCING
People are witnessing a different Vietnam, the Vietnam of today.
Even though there are still has many challenges, Vietnam is striving day by day to become a leading country in the field of technology, notably in software outsourcing services. The advantages mentioned above can assure you that Vietnam is becoming a promising destination for those seeking software development outsourcing services. It will also ensure you that investing in Vietnam Software Outsourcing would be a wise decision.
Thanks for reading. If you think this article is useful, don't forget to give it a share.
If you are considering to build your project and want to look for a leading software development outsourcing company, contact us now to get free consultancies from our expert team.