April 26, 2021
S3Corp. received the Sao Khue Awards 2021-The prestigious award of Vietnam Software Industry
On 24th April 2021, S3Corp., a leading software development services company based in Ho Chi Minh, Vietnam, with over 13 years in the industry, was honored to award Sao Khue title 2021 by VINASA for its outstanding software outsourcing services.
We are proud and happy to announce that S3Corp has been awarded the "Sao Khue Recognition of Excellence 2021", award category: Software Outsourcing Service, by VINASA (Vietnam Software and IT Services Association) on Saturday, 24th April 2021. This award is the prestigious award to honor those who have made outstanding achievements and bring significant contributions to the development of the Vietnam IT industry, especially in the digitalization period.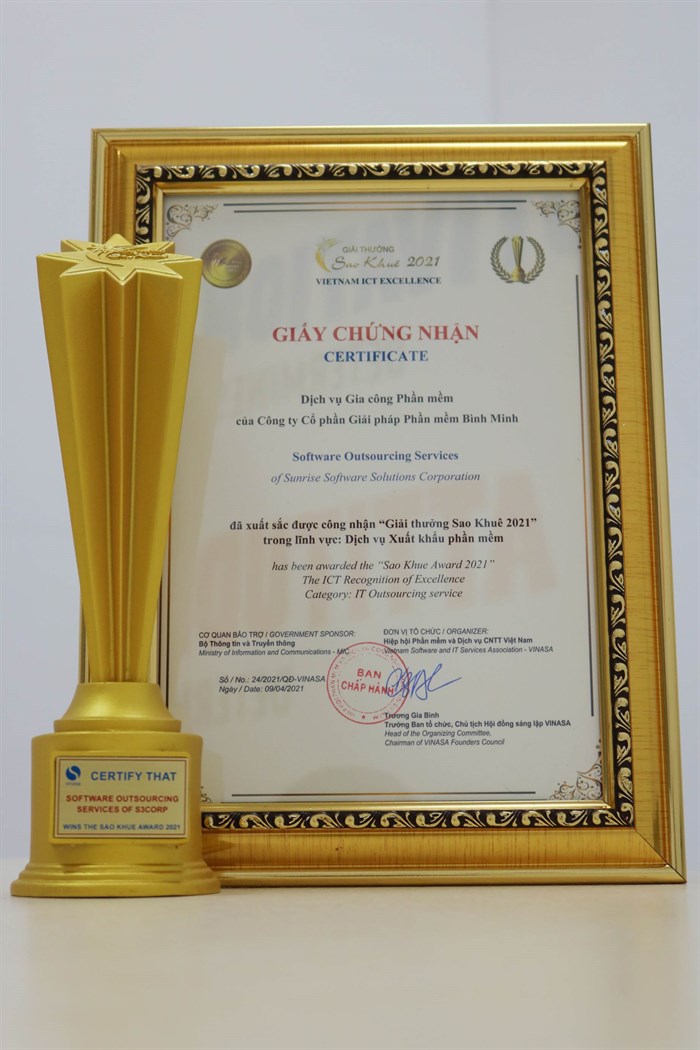 S3Corp. is awarded the "Sao Khue Award"- An ICT Recognition of Excellence in IT outsourcing services
Since the first organizing in 2003, Sao Khue has become a reliable award for the Vietnam IT market. And it gains trust from the IT business community. Beyond that, as the most critical awards for Top Software Development Companies in Vietnam, Sao Khue also becomes a source for the connection of IT businesses to domestic and international customers.
According to the Sao Khue General Assessment Conference 2021-including over 40 judges who are the leading technology experts and economists, they listened to the reports and selected 180 excellent candidates among 297 nominations from 161 enterprises to award Sao Khue 2021 (in which there were 147 IT products and solutions and 33 IT services).
S3Corp. be proud to be one of those. After passing three rounds of rigorous evaluation with many multiple criteria judged, S3Corp has been selected to award the "Sao Khue Recognition of Excellence 2021" with the award category: Software Outsourcing Services.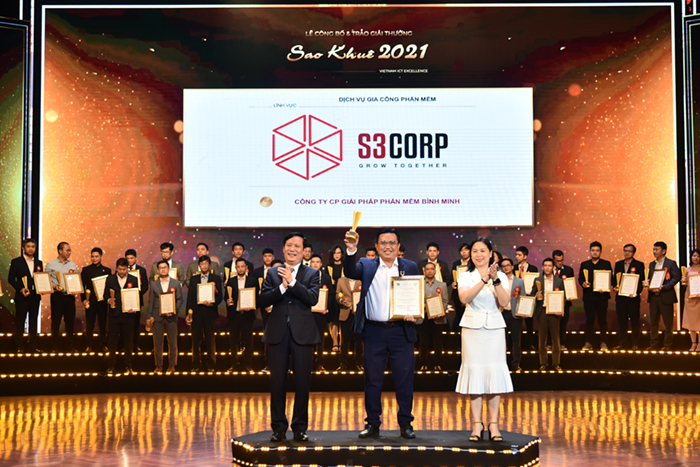 Mr. Le Nguyen - Business Development Director - represent for S3 Corp to receive Certificates Award
Established in 2007, S3Corp. is proud to be one of the leading software development companies in Vietnam. Over 13 years in the software industry, S3Corp. has gained trust from international clients for the superior quality of products and professional software services. We are always proud to be the pioneers in the technology stacks and provide the best outsourcing services and solutions. Besides that, we desire to promote efficiency and bring the most practical value for employees, customers, partners. 
By winning this prestigious award third-time, S3Corp. has strengthened its brand as the leading software development company in Vietnam. The awards do not only bring pride but also affirms the prestige of S3Corp. in the market. It makes us become the perfect choice for clients around the world to entrust the software project. 
Sao Khue Award is a worthy outcome for all the dedication, hard-working, and all efforts of people at S3Corp. Thank you to all S3-ers for your contribution. We will continue to do our best in commitment to innovation and strive more to provide high-quality products and services for worldwide clients. Let's grow together with S3Corp. 
---
Related articles:
S3CORP. RECEIVES THE SAO KHUE AWARDS 2017
S3CORP HAS BEEN AWARDED SAO KHUE 2019