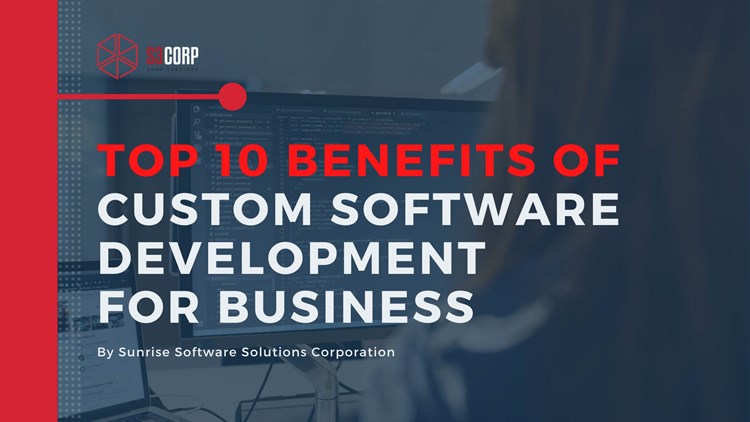 The technology and business environments are constantly changing. As a result, the software on the market appears insufficient to fulfill the business's specific requirements.
Turning to custom software development seems to be the most efficient strategy to enhance the productivity and competitiveness of the company in the market.
S3Corp. will provide you with all of the great benefits of custom software development in this article.
But first, let us go over the fundamentals.
What Is Custom Software?
Custom software development (also known as bespoke software development or tailor-made software development) is a type of software application created to address specific problems and fulfill the unique requirements of an individual or a company. 
It will entail the processes from designing, developing, deploying, to maintaining software depending on the business needs.
Customized software development can include a wide range of solutions. For instance, web application development, building CRM systems, mobile app development, database development, business process automation systems, building content management systems (CMS), etc.
Unlike commercial off-the-shelf (COTS) software such as Microsoft Office, which is suitable for a wide range of organizations and includes various features and functions, bespoke software applications would be created to meet unique business requirements or to serve a specific group of users.
An app for tracking medical papers or managing your business operations is an example of tailor-made software development.
Why Custom Software Development?
Customized software product development will be a solution that may boost your business productivity and become a flexible tool to adjust to any changes based on the company's demands. 
Aside from that, flexibility and scalability enable you to beat the competition and strengthen your competitive advantages.
In the long run, it may bring a positive impact to your firm, assisting you in managing business processes, creating connections with various clients, partners, and even with internal resources. 
Benefits of Custom Software Development
According to research, the custom application development services would expand by USD 31.76 billion between 2021 and 2025. It demonstrates that custom software development is becoming more popular among enterprises. 
However, you may be wondering whether it is worthwhile to spend time and money on such practices. Let us now look at the top ten benefits of bespoke software development. After this, you will be able to make an informed decision on whether to invest in custom software development or not.
Personalized Software Solutions
When it comes to technology, particularly software solutions, it will be difficult for businesses to find a one-size-fits-all solution through off-the-shelf software packages, even if you may find it helpful. 
And also, every company has its strategy and operating model. Hence, you might need personalized software solutions to validate your distinctiveness and position yourself as a leader in the industry. 
Custom software development will allow you to customize software products to match your business plan and fulfill your specific demands. 
Cost-effectiveness In A Long-run
That sounds contradictory because investing in a software development project might cost a lot of money. However, you may not need to spend your entire budget at once. You can build your product in phases throughout the custom software development process. 
To save money on the development, you might start with an MVP version. It sounds practical because it would enable you to validate your business idea and test your software application. Then, after completing, you may consider starting to develop a full-fledged software application or not.
Although bespoke software development solutions may be costly at first, they will become less expensive in the long run and will be worth investing in if you plan it well. As a result, if you need long-term solutions, approaching custom software development might be a valuable decision.
Increased Reliability & High-security Level
According to a Protenus analysis, the healthcare industry alone recorded 32 million breaches of patient information in the first half of 2019. It demonstrates data threats are becoming a critical problem for every business that collects and stores data, particularly companies in the healthcare, insurance, payroll, accounting, and fintech industries. 
Security and reliability are essential to the success of any organization. Hence, this requires a higher level of protection in software programs of enterprises. Custom software development solutions can guarantee that all regulations are being followed and all confidential data is protected. 
Furthermore, it can help you determine which data-security technology to use and which one is most suited to your company requirements, as well as how to integrate it into your application. The higher standard of security, the more trust you may earn from your customers.
Ongoing Technical Support & Maintenance
Custom software development is typically the result of partnerships between you and software development providers. They will bring up professional development teams to design and build your software application. Beyond, they provide a dedicated development team for further technical support and application maintenance. 

They are the ones who designed it from the beginning and are well acquainted with your application. As a result, they will be capable of maintaining it and helping you deal with bugs or any other issues when needed.
You might want to include Service Level Agreements (SLAs) in your vendor contracts to ensure that you receive maximum support. In the end, ongoing technical support not only reduces downtime when updating but also keeps your business processes running smoothly and effectively.
Flexibility & Scalability
The business environment is constantly changing. Hence, businesses have to adapt themselves to these dynamics changing of the market. 
As your business expands and evolves, custom software solutions provide businesses with the flexibility to make adjustments, add new features, update your product or seek supports for your company to meet its changing demands. 
Furthermore, scalability allows you to accommodate future growth and expand your business while the software application stays viable. 
Easy to Integrate Into The Company Workflow
Another benefit of custom software development for business is that it will be easy to integrate into your company workflow. Because the software solution is designed correctly to meet your specific business requirements, it will seamlessly integrate and fit into the software ecosystem of your company.
Beyond that, it will help you optimize your business process and enhance the productivity of your business workflow. Customized software solutions may also help you save money, speed up your operations, and avoid common bugs and other issues that arise during the integration with your existing software product.
Uniqueness & Innovative Product
Uniqueness is becoming a significant feature that may help organizations enhance the USP (unique selling proposition). Personalized software development will allow your company to cover the specific requirements and maintain your brand identity. 

Custom software development teams can create software, which is in line with business objectives. It allows you to decide what type of software development technology or which trending technology may be implemented to your application to make it a competitive product with a distinct identity. Furthermore, it allows firms to innovate products in response to rising demand.
Improve Productivities
None of us can deny that software has a beneficial influence on employee productivity, especially when the software application is customized to a specific business and fulfills its unique requirements. 
It allows employees to work more effectively and confidently complete their tasks. Aside from that, appropriate software solutions may help your personnel accomplish their responsibilities in much less time. It may help to manage multiple resources, increase the productivity of your business procedures and deliver additional benefits to the bottom line. 
Competitive Advantage & Increase ROI
With bespoke software development solutions, you will get what you require. That is, you will not be required to purchase licenses or pay for services that you will never use. As a result, it has the potential to save money in the long run.
In addition, you will be able to gain several unique features for your application that your competitors may not have or that are not available on the market. Hence, it can strengthen your USP (unique selling proposition) and provide you with a substantial competitive advantage over your competitors.
Customized software product development enables you to narrow your priority to your target audience. It will provide you the opportunity to boost consumer engagement while also increasing your long-term ROI.
Exclusiveness
Software designed specifically for your company will provide you with complete control over it, allowing you to integrate it into your operations, leveraging it based on your business needs, or implement any changes you wish to make. That means the product is yours. You will have ownership and will be able to utilize it as you see it fits your business requirements. 
Hence, if you are serious about your business and use customized software development regularly, investing in your software solutions is a wise investment for long-term business.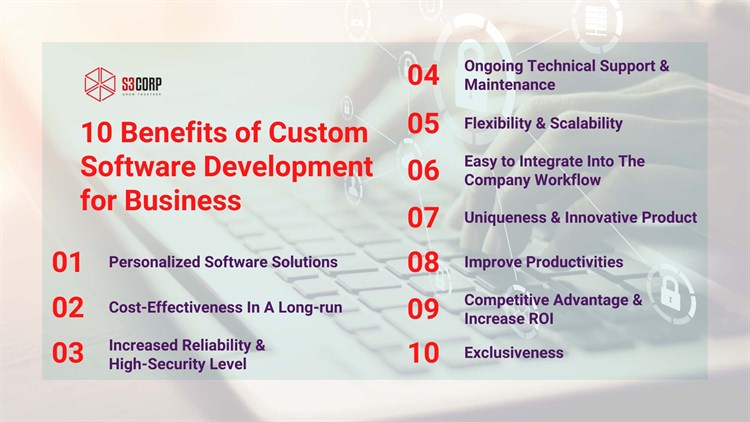 Top 10 Benefits of Custom Software Development for Business
Disadvantages of Custom Software Development
Even though tailor-made software development solutions may provide you with more benefits than you think, the picture would be incomplete if it did not include its drawbacks. There are some challenges to business that entrepreneurs/CEOs should be aware of before making any decisions. Let us now look at the two disadvantages of adopting custom software solutions.
Delivery Time
Custom software development, unlike ready-made software applications, takes a significant amount of time for designing and developing the software, whether you choose a software outsourcing company or use your in-house development team.
It is often a time-consuming procedure. On average, the custom software development process will take 5-6 months. That hasn't included the time required to evaluate the software from the perspective of an end-user as well as the procedure may go through multiple phases before you receive what you want.
Initial High Investments
Custom software development requires a professional development team that can focus on your project and uses cutting-edge technology to generate a better outcome for you. Hence, it could be a great alternative solution in the long run. However, the initial investment may require substantial amounts of money, which might be a little daunting for some organizations, so be sure you're ready to invest.
Key Takeaways
There are numerous advantages of custom software development. It enables you to customize the software to meet your specifications and business demands. Aside from that, it may help you get complete control over your apps, allowing you to specify how they will work to optimize your business or make any adjustments that you may require.
Personalized software development requires businesses to spend some time designing and developing or even spend higher money upfront, yet, it is worth investing in customized software development. Even so, before making any decisions, you should do a thorough analysis of your business, identify your business goals and requirements, and determine what to build in the short and long term.