IT Staff Augmentation Services become the most effective strategy for accomplishing the business goals more rapidly and cost-effectively.
This form of outsourcing becomes a powerful way to strengthen your team while also obtaining the necessary skill sets, especially to find the best talent for your software development needs. 

When Should You Seek IT Staff Augmentation?
You can approach the IT staff augmentation company at any time, depending on your need. However, here are a few reasons that you might adopt this strategy.
Your Projects Are In Time-Sensitive
When you already have an in-house team and need to add a few more IT professionals, the shortage of talented IT specialists in the local IT workforce and the time-consuming recruitment procedure are holding you back.
That is a sign that you should adopt this strategy. 
Staff augmentation allows you to expand your in-house development team by hiring additional personnel to help you fill skill gaps during certain stages of your development process.
Demand For Scaling The Team
During the software development process, you will encounter phases where you might have to scale the team faster to meet the goals on time.
However, a shortage of IT expertise in the local workforce may prevent you from having the appropriate team size for the phases.
Staff augmentation is an effective strategy when you only need to hire 5-8 tech experts (depending on your demands) for a fixed time.
High-level Talents Are Required
When your project requires high-level IT professionals with a specific technology stack (such as MEAN or LAMP), you do not want to waste time hiring and training junior personnel or those with less experience.
Instead, you may need to consider personnel augmentation. An experienced and high-level skills engineer is easier and more efficient to integrate into the project.
The Benefits of IT Staff Augmentation
Working with top IT staff augmentation companies like S3Corp. provides several benefits that make this outsourcing strategy worthwhile considering. The following are a few main advantages of IT Staff Augmentation.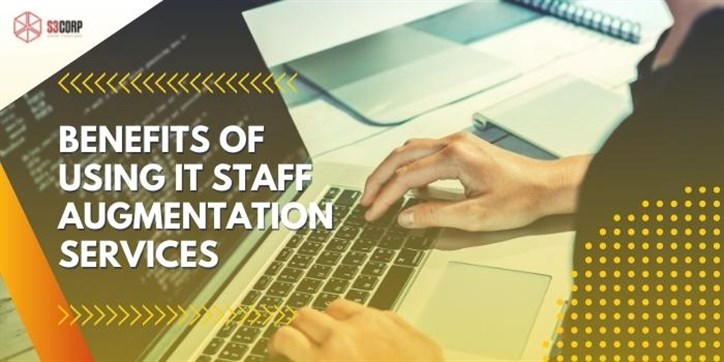 Enhance Productivity
Staff augmentation allows for a better sense of productivity since your staff augmentation team will dedicate all their time and effort to a single project. 
Furthermore, when working with staff augmentation providers, you will be able to effectively manage your whole project, which will help you ensure that your external personnel works and follows the standards you provide in hand. 
Time-Saving

IT staff augmentation can save you time by eliminating the hiring process.
This approach enables you to hire temporary staff, which saves you a significant amount of time, particularly in the recruiting process and staff administration.
You will be able to hire professionals to assist your development team in achieving the goal in the time that best suits your needs, whether for a few hours or months at a time.
In short, you will hire and pay for what you require for as long as you need it.
Reduces Development Costs
Hiring and maintaining full-time IT professionals may cost you more than you think.
Sometimes it might even take you out of your plans and budget, especially for small businesses and startups.
Staff augmentation appears to be an excellent alternative strategy to minimize expenses, thereby improving earnings and revenue for your organization.
In fact, according to the Deloitte Global Outsourcing Survey 2020, almost 70% of companies have chosen cost reduction as their primary outsourcing objective, especially after the impact of Covid-19.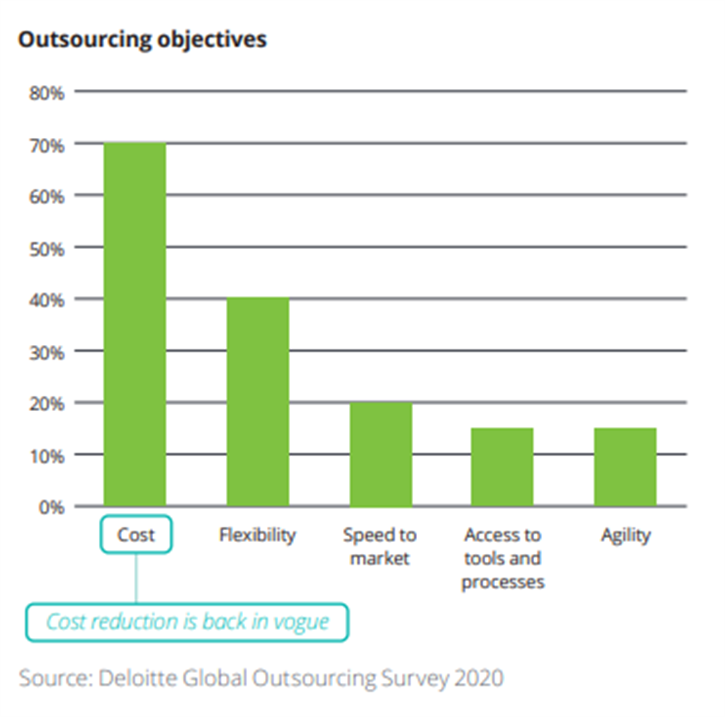 No one can guarantee how much you can save on a software project due to various other factors. However, by comparing hiring local expertise, staff augmentation tends to be less expensive. 
Direct Access to The Talent Pool
Even though corporations approach this strategy with cost reduction as their primary objective, talent resources appear to be even more important than cost savings in software development.
IT staff augmentation services provide you direct access to a pool of qualified IT experts globally who may not be available in your local IT workforce.
Working with IT staffing services also allows your company to hire temporary, competent employees as needed at a reasonable price, which contributes to the effectiveness of your core development team instead of starting the hiring process, training, and managing them.
Flexibility
Another benefit of IT staff augmentation is that it allows you to scale up or scale down the size of your development team as needed.
Moreover, you have the option of hiring as many IT professionals as you want, whether you need one person to cover a specific need or numerous people for a project.
Additionally, the resource of the IT staffing company is budget-friendly.
Depending on the terms of your agreements, you and your software development partners may establish a payment plan and its details, such as weekly or monthly payments or hourly rates, and it might include sick days or vacations.
Is IT Software Staff Augmentation For You?
When it comes to this strategy, software staff augmentation has emerged as one of the most cost-effective ways of integrating your organization with world-class talent located in other nations. Nearshoring and offshore IT staff augmentation services have become popular options for most companies.
However, keep in mind that this strategy will provide you with complete control over the development of your project.
To put it in another way, you still have total management among those "augmented" staff, just as you do with your in-house development team.
Hence, you must engage in all phases of the process and ensure that it can accomplish within the timelines, quality standards, and budgets.