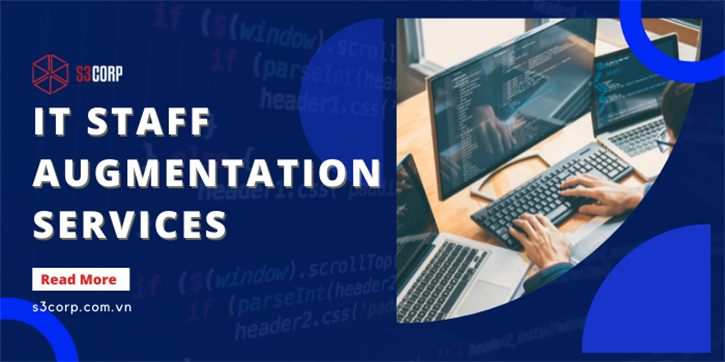 During the development process, you might reach phases that demand the extension of your development team due to adding additional team members is always essential to have the appropriate team size for projects.
You might opt to recruit, hire, and manage the development team, yet, it is a time-consuming and costly recruiting procedure. In this case, IT staff augmentation services might be a smart move for your company.
It can strengthen your IT operations, help you scale your projects quickly, and accomplish the development process on time.
Let us dive into this article for a better understanding of IT staff augmentation services with the following topic:
IT Staff Augmentation Market Report
IT staff augmentation is rapidly becoming one of the most affecting trends in response to demand for the IT workforce. It is also a powerful outsourcing strategy that enables companies to achieve their goals with better scalability, agility, and lower risk.
Many businesses adopt IT staff augmentation services since it efficiently covers the IT resource gap of their in-house team while also providing fully dedicated personnel for their project within a defined time.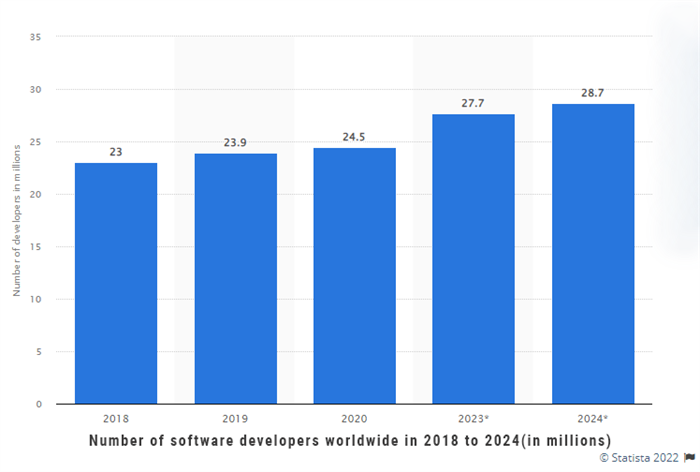 The abundance of IT resources, which expect to reach 28.7 million developers by 2024, has shown the potential of this model in helping to allocate IT resources amongst businesses.
This potential has driven the IT staffing services market that would expect to grow at a CAGR of 3.66 percent (2021 - 2026). And it will result throughout the IT outsourcing market growing at 7.7% CAGR from 2020 to 2027.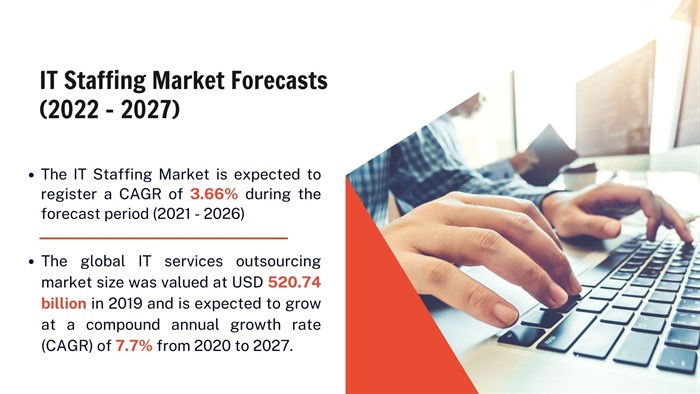 These figures somehow have shown the potential of the IT staff augmentation market, which is becoming widely popular these days.
What is IT Staff Augmentation?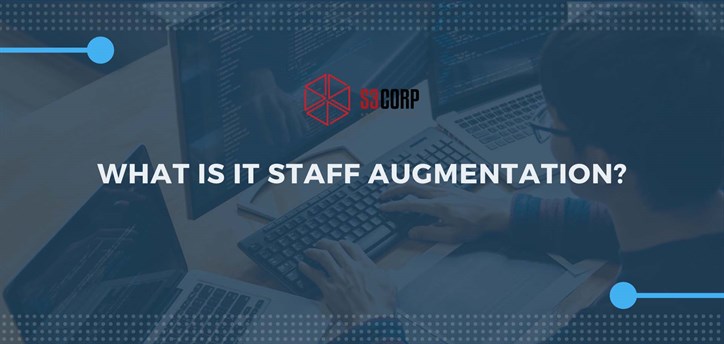 IT staff augmentation is a type of outsourcing model which involves hiring highly qualified staff from a reliable software development company, like S3Corp., to cover vacant positions in the in-house development teams to improve project development scalability and efficiency.
This strategy allows you to select the right individuals who can fulfill your needs at the right time. Aside from that, it will also allow you to eliminate or extend your augmented team whenever needed. 
In general, staff augmentation works well for short-term projects that require less than two years.
If your project takes longer than that, it may be wiser to do it with a dedicated team or even a project-based development model rather than staff augmentation. You can still begin with a staff augmentation model and then swap to another if necessary.
It is a part of the discussion between you and the software development provider. But even so, they are all ready to reach such agreements to achieve the best possible outcomes for your business.
In a nutshell, IT Staff Augmentation is a strategy that adds extra IT specialists to your in-house team to accelerate projects and boost your business productivity.
What Is the Difference Between Staff Augmentation and Dedicated Teams?
Staff Augmentation
The staff augmentation model allows you to directly select the software engineers and hire them for a set period to augment your in-house team as needed.
This method helps you eliminate time-consuming recruitment processes while hiring highly-demanded software development professionals for your project. Essentially, the software development provider will be in charge of personnel management.
It allows you to dedicate more time to your primary tasks and collaborate with your augmented development team in the same way you collaborate with your in-house team.
Dedicated Development Teams
Dedicated Development Teams is a long-term collaboration model between you and your software outsourcing provider.
A dedicated development team of qualified professionals might include front-end and back-end developers, full-stack software engineers, mobile and web developers, UX/UI designers, DevOps engineers, QA specialists, BA, PM, and other relevant positions.
They will collaborate to offer end-to-end technical solutions for your project. In this strategy, the vendor handles all administrative costs, and team management will be conducted by both parties so that everyone may engage and communicate to complete the project on time.
Type of Staff Augmentation
Adding additional professionals to your team seems to be a simple process. Yet, before moving forward with this approach, you need to be aware of the types of staff augmentation to fulfill your business objectives. 
In this staffing model, there are two types of collaboration. They are short-term collaboration and long-term collaboration.
The short-term collaboration is appropriate for short-term projects when there is a high demand for developers, especially when in-house developers are unavailable.
In reverse, long-term one is suitable for long-term projects to cover a talent gap, especially when the in-house hiring procedure takes too long or the organization wishes to reduce operational costs. 
In addition to the two types mentioned above, you may come across this staff augmentation model in the following three categories:
Commodity: it can apply when you need to add reliable IT specialists to your team but do not require any specific skill set.
Skill-based: this is useful when you need to add trustworthy IT professionals with particular skill sets but do not care about their level.
Highly skilled: This applies when you need competent IT specialists with advanced skills and a certain level of experience.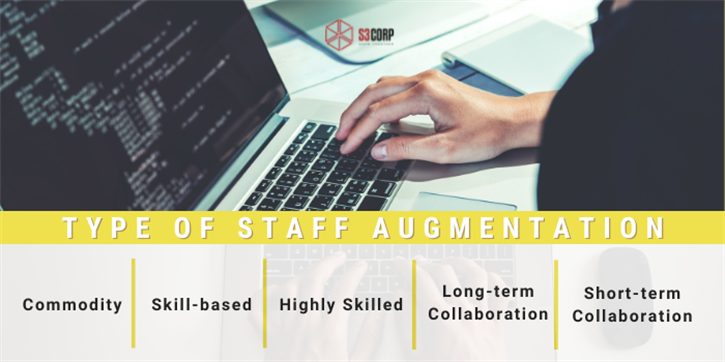 What Is IT Staff Augmentation Process?
Determining Needs And The Right Partners
To be truly successful with the project, you must evaluate the competencies of your current staff and determine what skills you may need for the project. It also involves carefully detailing your outsourcing goals to hire the best development teams to accomplish your software project at the right time and on budget.
Aside from that, you will need a list of trustworthy IT staffing companies; then, work with your business team to analyze the reputation of those companies in the sector, their previous experience and case studies, their hiring method, and their competency.  
Get Consultation And Select Talent
After you define the requirement and have a list of potential partners, you may need to make your first contact with a software development provider.
The discussion will occur and center around identifying your IT staff needs. It might cover criteria such as your business goals, skills needed, qualifications needed, expertise, the number of IT specialists, technical skill-level requirements, cultural needs, timeframe, etc.
When both have a better understanding of the goals, IT staffing services provider can recommend the best model for your requirements.
A shortlist of available and suitable developers with the appropriate skillset who can fulfill your needs will be delivered to you along with their résumé for your consideration. 
You might want to invest time in identifying suitable talent sources. Then, you or your company's C-level executives may conduct interviews with the selected specialists and even sign a contract if they are the right fit for your development team. 
On-Boarding The Talent One
Once the agreements are officially signed, you will be able to rapidly scale your software development team with the qualifications necessary for your business goals. 
After onboarding the team, you might need to support team members in becoming familiar with their roles and responsibilities. It will prevent misunderstandings regarding roles during the development process and guarantee that your project runs smoothly.
Ongoing Support
Once the new team members have settled into their responsibilities and roles, the software development vendor will provide ongoing assistance to your development team.
It will guarantee that your project is accomplished following your requirements and timelines, enabling your organization to achieve your business goals efficiently.
Get Started with IT Staff Augmentation Services of S3Corp.
S3Corp. is a Vietnam software outsourcing company providing software development services for over 15 years. Our services include (but are not limited to) full life cycle software development, new feature development, current feature enhancement, testing and maintenance support services, full-cycle mobile app development and web application development services, and more.
We provide IT staff augmentation services for all sorts of projects, from prototype to full-scale development of desktop apps, mobile applications, and web applications, testing, software quality assurance, and so on.
If you are looking for experienced developers to help you efficiently expand your in-house team, our specialized development team will provide you with the right talent at the right time.